Done with week number one...
School is getting into full swing here at Poly, as we just finished week one of the ten week quarter.
I've got four classes totaling 14 units, but I tried unsuccessfully to add a fifth class and so I've got Mondays and Wednesdays off. I'm taking basic Art classes required for my Art and Design major, and as such I'm surrounded by freshmen students everyday. There are a few fellow transfers in the department, so I don't feel out of place or anything, but these classes are very basic, and the tedious lectures get a little frustrating. Having taken art courses at RCC I'm very familiar with the subjects being taught, even if the credit doesn't articulate between colleges. My classes for this quarter are Basic Digital Photography, Color Theory, Beginning Sculpture, and Biopsychology.
The first three are those freshman level courses. The Biopsych is a B5 general elective for me, and it might turn out to be a great choice. The course deals with the biochemistry and biology of behavior, focusing on the brain and central nervous system as well as the genetic aspects of behavior in humans. My professor is a practicing Clinical Psychologist, Michael Selby, PhD. Quite a smart man, from what I've seen and heard in our two lectures thus far. I think I'll enjoy his class.
As for life outside of classes, there's not much to tell. I've been playing some billiards with my good friend Sam Chew, whom I met my freshman year at Cal Poly. I went to his place last week to hang out, and was introduced to a crazy card game called Killer Bunnies. The most complex card game I have ever played, to say the least. Very fun and very competitive. We only played one game but it lasted for hours. Great social fun, as bargaining, bribing and betrayal are key elements to success in the game.
So here in SLO the freshman are getting to know the place, but still staying on campus a lot, since they live there. We live on frat row, but since school started it's been more quiet than it was last week (thankfully). Even frat boys have to study i suppose. Who knew?
I'm settling into a new routine, biking to class, spending more time out of the house, and meeting more new people (while catching up with random people I haven't seen since leaving Poly in 2005). So far its a good quarter here in SLOtown. Oh yeah and I've started a new venture: facial hair. Because I've worked at In-N-Out Burger for four years, since before I started shaving for real, I've never had the chance to grow any real facial hair. Well now I can. So here is my first attempt at something: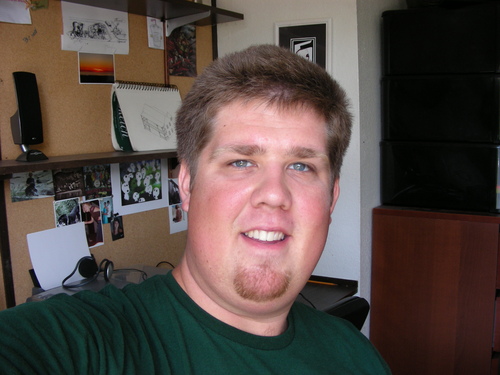 I think it makes me look older. But I'm not sure if it looks good. I'd like to hear what anybody thinks.
My thoughts are with my Grand and Great-Grandparents in Gurnee, IL, who are with Great Grandpa Harry. Hope everything turns out well.
Lots of love from the west coast. Until next time, this is Jimbo from SLO saying peace out.