Rollin' on...
Well this quarter is really heating up here at Poly. With three weeks remaining I've got a lot of projects (being an art student has that condition) and lots of hours to work both in the studio and at my job. That's right, I've gone back into the workforce, back to In-N-Out Burger. My new store is in Atascadero, about 18 miles up highway 101 right off the road. It's the same size and type of store that I worked in down in Corona. Here it is: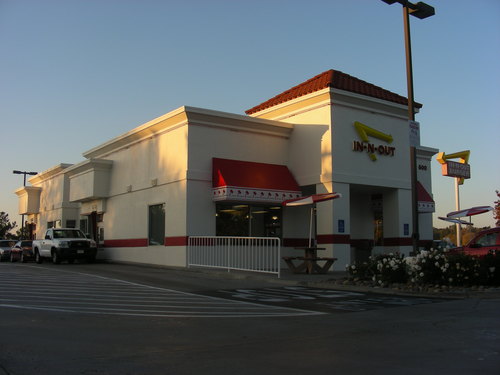 Anyway, I've been busy with work for school as well, since that is really what I live here for. You can see what I've been up to for photography class on my website, Wiseguy Images. Yesterday I registered for my Winter classes, and I'll be moving right ahead with my photography by taking Artificial Lighting and Digital Color Photography classes along with a couple of other art classes. Should be a busy quarter once work is factored in.
Next week I'll be driving down to spend Thanksgiving with the family, and after that there's just two weeks of school including finals. I'll be staying in SLO to work for a lot in December, but I'll be down to Corona again for Xmas. I hope that Grandpa Nehls continues to improve and that the G's will be able to join us for Xmas in Cali. My thoughts are with you there in chilly Illinois.
So I hope to keep up with my blog here as much as I can, at least once a month while I continue my trek towards graduation, which by the way is about 2.5 years away. So I'll be living life in the SLO lane for quite a while to come. Stay faithful and you might be rewarded (or not, it's a gamble). Cheers!